David H. Thomas
The Dancer
ink and pencil on paper
13 x 17cm
2020
'How did this work come about?"
In this drawing of a dancer I am interested in how a pattern draped over the body, follows and reveals form and creates an  illusion of depth and movement on a two-dimensional surface.
Drawing is at the heart of my art practice and ink  is a medium I have used for over 30 years. I have  themes which I revisit often. They feature patterns like wonky grids and honeycombs of hexagons, recurring motifs that I observe in nature. It runs through all my work, an obsession that I cannot control! It's a primordial drive,recognising patterns inherent in the very structure of life itself.
In my last exhibition at the William Mora Galleries in August last year, entitled 'Basalt Temple' ( website; 
wwwdhthomas.com
) I used these patterns in paintings and drawings based on hexagonal basalt rock formations found near Falls Creek in Victoria's high country.
"How did you become associated with AKC?"
 I  came to Melbourne in the early 80's after art school, and my Dad told me to look out for a relation, artist David Larwill. It was around the time of the first Roar show in Greene st. Prahran, which I duly attended, as well as many thereafter.
 I became good friends with David,  not least because of his generosity, charisma, and finely tuned bullshit detector! When he started AKCT with Bernie Jones et al, I became a regular contributor of artworks to the annual Auction.
What I like about AKC is its integrity, and the ability to get money quickly to those most in need. There is no middle management,and 'Admin Costs' no dodgy pedantic waffling…
Having sat on the AKC committee for some years and sieved through the requests,I can attest to the highest moral standards.
That is why myself and other artists continue to support it, year after year.
"What for the future?"
In these Covid-fraught times, artists should be even more important; to share the inner life, the life of the soul. Sadly, joy- givers and spirit-lifters like Musicians, Actors, Performers and Artists are shut down, while well-funded Construction Projects and Casinos  are allowed to continue….
My heart goes out to those who have lost their jobs and I only hope there is solace in the family unit, in passions for growing veggies, a return to craftwork, crochet, stamp-collecting and the DIY ethos. I hope for a general questioning of the rampant materialism we have seen in Australia in recent years.
I am hopeful that Australians will pull through this period with a new focus on the things that really matter in life, Health, Family, Friends, Love and Art!
Walking in general, but especially in our magnificent National, State and Suburban Parks. Dads looking after kids more, Women given proper credit for their roles, as well as restoring our indigenous peoples to a real and respectful national position.
 I am truly an optimist!
On a personal level I would count myself lucky to continue my art practice and make those connections through Art with other people  that make life worthwhile.

David H Thomas  July 2020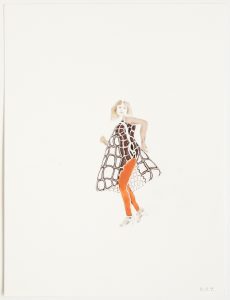 The Dancer by David H. Thomas
ink and pencil on paper-23 x 17cm – 2020
$440 (Framed)
Courtesy: William Mora Galleries
Sale will go to the person who emails first.
To purchase please email: hello@akc.org.au